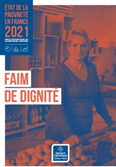 The annual statistical report of the Secours Catholique – Caritas France on poverty in France was released on November 18th. This 2021 edition was co-written by Jean-Noël Senne (RITM, Université Paris Saclay), Camille Saint-Macary (IRD), Pascale Novelli (Secours Catholique) and Clément Mazet (Collège de France).
Using large sample data collected all over the country in 2020, the report warns of the deterioration in the living standards of the poorest during the pandemic. The report is complemented by an in-depth investigation of the specific issue of food aid and access to food, through a survey of 1,088 households that used emergency food aid during the first lockdown, from March to May 2020. It shows thay the health crisis has acted as a powerful indicator of food insecurity that is already well established for millions of French people.
Watch a video summary of the report.
Read the full report.
Media coverage: Le Monde, France Inter, France Info, Le Parisien, Le Figaro, Libération